Today's Top Ten Tuesday topic is Characters Who Are Fellow Book Nerds (love reading, are writers, work at a bookstore, etc.). I narrowed it down to characters from books I've read this year and rated at least 4 stars. I also left off Hermione Granger because she'll be on plenty of other lists. 😉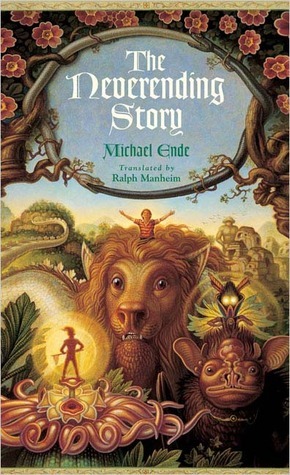 Rae "Sunshine" Seddon from Sunshine by Robin McKinley:
I'd always had a guilty preference for fiction. Since I seemed now to be living fiction, this proved to have been an entirely reasonable choice.
Rachel Walker from Devoted by Jennifer Matthieu:
Reading whatever I want for as long as I want to read it makes me sigh out loud with happiness even if there's no one around to hear me sighing. I'll never get sick of it.
Lord Peter Wimsey from Whose Body? by Dorothy L. Sayers:
Lord Peter's library was one of the most delightful bachelor rooms in London.
Bastian Balthazar Bux from The Neverending Story by Michael Ende:
"I wonder,' he said to himself, 'what's in a book while it's closed. Oh, I know it's full of letters printed on paper, but all the same, something must be happening, because as soon as I open it, there's a whole story with people I don't know yet and all kinds of adventures, deeds and battles. And sometimes there are storms at sea, or it takes you to strange cities and countries. All those things are somehow shut in a book. Of course you have to read it to find out. But it's already there, that's the funny thing. I just wish I knew how it could be."
Jean Louise "Scout" Finch from To Kill a Mockingbird by Harper Lee:
Until I feared I would lose it, I never loved to read. One does not love breathing.
Ajax Penumbra and Clay Jannon from Mr. Penumbra's 24-Hour Bookstore by Robin Sloan:

What do you seek in these shelves?

Martha from The Unexpected Man by Yasmina Reza:
Come on, Martha, employ a little cunning in the way you read. Discreet but unmistakably strong on presence.
Ponyboy Curtis from The Outsiders by S. E. Hinton:
I liked my books and clouds and sunsets.

Catherine Morland and Henry Tilney from Northanger Abbey by Jane Austen:
The person, be it gentlemen or lady, who has not pleasure in a good novel, must be intolerably stupid.

The Bats from Bats at the Library by Brian Lies:
And if we listen, we will hear
some distant voices drawing near –
louder, louder, louder still,
they coax and pull us in, until…
everyone – old bat or pup –
has been completely swallowed up
and lives inside a book instead
of simply hearing something read.
I'm linking up: