The challenge runs June 1 – September 4, and is hosted by Cathy @ 746 Books. For my complete list, see my sign up post. Mini (Goodreads) reviews of my first 10 books can be found here and here. Now for the next 5:
Mrs. Frisby and the Rats of NIMH by Robert C. O'Brien
⭐ ⭐ ⭐ ⭐
Similar to Watership Down – and not just because of the anthropomorphic rodents. Both groups of rodents confront difficult odds, wrangle philosophical questions, and found utopian societies. I love a kid's book that doesn't talk down to its audience!
The Guernsey Literary and Potato Peel Pie Society by Mary Ann Schaeffer and Annie Barrows
⭐ ⭐ ⭐ ⭐ ⭐
A charming, refreshing, tearful re-read. Even better the 2nd time!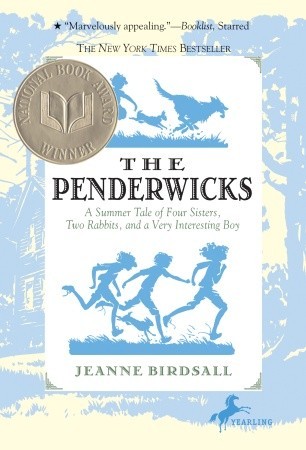 The Penderwicks: A Summer Tale of Four Sisters, Two Rabbits, and a Very Interesting Boy by Jeanne Birdsall
⭐ ⭐ ⭐ ⭐ ⭐
Absolutely adorable children's book! The Penderwick sisters are at least as charming as the March sisters, with hints of Anne Shirley, Ramona Quimby, and Ladybug Girl thrown in for good measure.
The Princess Bride by William Goldman                     ⭐ ⭐ ⭐ ⭐
Such a fun read! Super similar to the film (William Goldman wrote the book and the screenplay after all). The book is a little more adult and a lot more meta.

Kneeknock Rise by Natalie Babbitt                               ⭐ ⭐ ⭐
It's been ages since I read this book. This time, reading it to my kids, I felt frustrated with its vaguely anti-religious message.
NOTE: I substituted this one for The Trumpet of the Swan. We really wanted to listen to the audiobook version narrated by E. B. White himself, but the copy I got from the library wouldn't play. 😦 We'll try again with a different copy some other time.