Today's T3 theme is Supernatural Read (just in time for Halloween!).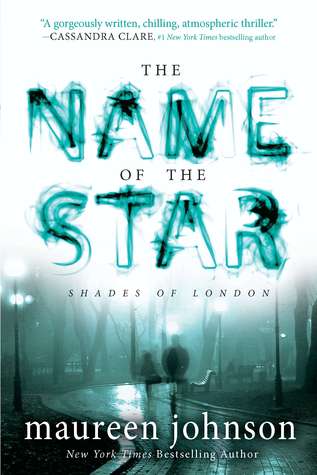 I've read several books and series recently with supernatural elements, but I'm choosing to feature Maureen Johnson's Shades of London series.
Goodreads synopsis of the first book, The Name of the Star:
Louisiana teenager Rory Deveaux arrives in London to start a new life at boarding school just as a series of brutal murders mimicking the horrific Jack the Ripper killing spree of more than a century ago has broken out across the city. The police are left with few leads and no witnesses. Except one. Rory spotted the man believed to be the prime suspect. But she is the only one who saw him – the only one who can see him. And now Rory has become his next target…unless she can tap her previously unknown abilities to turn the tables.
Since I'm pretty pale–years of excessive sunscreen and being slowly bled to death by swamp mosquitoes–the rich black looked dramatic. I added some red lipstick, which may have been a touch too far, but Jazza said I looked nice, and she seemed to mean it.
Pale skin, rich black, red lipstick, and a star brooch (from the book title):
Your turn! Click on the little blue frog and link up: