Goodreads synopsis:
A hilarious and heart-warming debut and the perfect girl's night in. For fans of Sophie Kinsella and Lucy Diamond. LOL funny!!
Unlucky in love, failed actress Libby Lomax has retreated into the world of classic movies, where the immortal lives of the screen goddesses offer so much more in the way of romance than her own life.
After a terrible day on the set of a cult TV sci-fi series where she has proved herself to be the antithesis of feminine poise and embarrassed herself in front of heartthrob actor Dillon O'Hara, she plonks herself down in front of her trillionth viewing of Breakfast at Tiffany's. Relaxing on her battered old couch, salvaged from the props department by her best friend Olly, Libby is gob smacked to find actual Screen Icon, Audrey Hepburn, sitting beside her. Dressed in her little black dress, wearing her trademark sunglasses, Audrey proffers advice to the hapless Libby between ladylike puffs on her vintage cigarette holder.
And so, Audrey becomes Libby's confidante and friend – but has Libby got what it takes to turn her life from a Turkey to a Blockbuster? With a little bit of Audrey Hepburn magic, she might just pull it off…
A Night in With Audrey Hepburn is the first in a series of three books following the life and loves of Libby Lomax as she blossoms from Z-lister to A-lister and all of the stages in between with a little bit of help from some very special friends.
---
In honor of Audrey Hepburn's birthday yesterday, I'm reviewing a book about her (sort of).
First, I have to admit to being smitten with the book's cover! It's gorgeous, and the covers for the other 2 books in the trilogy are equally lovely: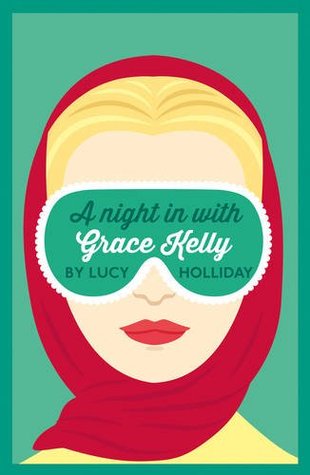 I'm torn about this book. There were aspects that I enjoyed, and others that I detested.
The introduction shows us a young Libby Lomax, leading a very Gypsy Rose Lee childhood. Her stage mother drags her along to her prettier, more talented little sister's auditions. Her father is barely in the picture, and poor Libby is lonely. This was a great setup for the novel and may have raised my expectations too high.
The first chapter skips ahead 16 years, where we learn that Libby hasn't changed one, single, eensy, beensy, micro-peensy, little bit. Eye-roll. She clueless about men, still stuck at home with her stage mother, being dragged along in her sister's wake, etc.
By the end of the book, with Audrey's magical help, Libby has begun to mature a bit. Thank God.
I loved the Britishness of the book – tonne instead of ton, pongy, whilst, podgy, gone three o'clock, etc.
I loved Audrey's pep talks:
I wasn't qualified to act opposite Gregory Peck. I wasn't good enough to dance with Fred Astaire. But I damn well got on with it and gave it my all, because that's the only way a girl is going to find her place in this world.
However, the book has some serious issues. There's the aforementioned immaturity of the MC, the often unsuccessful attempts at humor, and the editing problems. Oh, man, the editing problems! I had to read the following sentence 5 times before I figured out what she was saying:
I scramble off Dillon, doing up shirt buttons as I do so that I had no idea he had managed to undo.
 I think I'll give the second book a shot, but I'll be wary.
 The look:
'Now, the right shoes, of course, always make or break any outfit. Do you have a nice simple pump?' Audrey asks me. 'Something with a kitten heel, perhaps?'
 My Audrey tee, green circle skirt, some bling, and, of course, kitten heels.