Death of an Addict by M. C. Beaton
⭐ ⭐ ⭐ ⭐
I enjoyed the case – it was nice for Hamish to get out of Lochdubh for a bit. The ending was kind of sad. 😦
Death of a Bore by M. C. Beaton

⭐ ⭐ ⭐
Beaton pokes fun at TV (again). This book got me through a bad headache and I am grateful.
Death of a Dreamer by M. C. Beaton
⭐ ⭐ ⭐
The murder mystery was interesting enough, but Hamish's love life overshadowed it at times. Priscilla needs to GO AWAY (or die)!
Death of a Maid by M. C. Beaton
⭐ ⭐ ⭐
I don't quite understand Beaton's obsession with solving the main mystery at the 80% mark of the book? The last 20% is usually about Hamish's love life. Yawn.
Death of a Gentle Lady by M. C. Beaton
⭐ ⭐ ⭐
I will admit that my suspicions were firmly planted on a particular character, and I was shocked when the plot veered toward someone else. Beaton got me!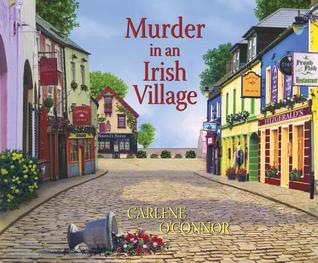 Murder in an Irish Village by Carlene O'Connor
⭐ ⭐ ⭐
Mostly clichéd cozy mystery – female amateur sleuth, multiple murders, love triangle (where one of the love interests is a cop), small town, small business, quirky characters. The only things that are original (in my experience with Cozies) are the extreme Irish-ness, and the fact that the MC is guardian to her 4 young siblings. A fairly ordinary first novel, greatly enhanced by Caroline Lennon's narration.
A Bicycle Built for Murder by Kate Kingsbury
⭐ ⭐ ⭐
Overall, an enjoyable period cozy. There were a few attitudes and ideas held by characters that irked me, although they are accurate to the time period. Martin and Violet were great!
Pagan Spring by G. M. Malliet
⭐ ⭐ 1/2
This series has never been more than OK for me, and this book was a step down. There were bothersome inconsistencies, little in the way of character development, and Father Max just plain made me mad once:
"Men need women to help set the boundaries." WHAT? I was with you when the issue was a girl being inappropriately attired for church, but now you're placing the responsibility of men's sin on a 12 year old girl's shoulders – not cool!
I'll not be bothering with the rest of the series.
Uncommon Grounds by Sandra Balzo
⭐ ⭐
Wow, that was . . . terrible. It was going along in a kind of standard cozy mystery way, until about 3/4 of the way through, when it took an extremely unexpected turn and got really weird. Not quite "aliens did it" weird, but still. Actually, aliens would've been better.
A Taste for Murder by Claudia Bishop
⭐ ⭐
Ugh. Quill is an idiot, Meg is a spoiled brat, and they are the worst business owners of all time! I guess the mystery was okay, but it was overshadowed by the truly horrible characters.