Read
The Cracked Spine by Paige Shelton (audiobook / library)
My rating: 3.5 of 5 stars
I'm torn. I *loved* the characters, and the narrator was great, but the mystery was muddled, and the vaguely paranormal elements were odd.
I Capture the Castle by Dodie Smith (physical / own)
My rating: 3 of 5 stars
Well, that just proves that my Bookstagram buddies aren't infallible. Everyone (except Shell) raved about this book – it's amazing, an under appreciated classic, Austenesque! Um, no.
While I agree that the basic story is very Austenesque – beautiful sisters in reduced circumstances, rich men moving into the neighborhood – it lacks Austen's astute observation of human nature. Every single character is over the top, unreal, more caricature than character. Cassandra's voice is witty, and often charming, but it's not enough to carry the entire novel.
I was buddy reading with my friend Katie, but she felt these way I did, and decided to back burner the book until a later date. We're going to re-read Persuasion in December – I'm so excited!
The Tenth City by Patrick Carman (audiobook / library /with kids)
My rating: 3 of 5 stars
The last few chapters had us going, "What is going on?!" I'm ready to give this series a rest for a bit – bring on the Christmas books!!!
The Best Christmas Pageant Ever by Barbara Robinson (audiobook / library / with kids / re-read)
My rating: 5 of 5 stars
A yearly tradition in our house! Absolutely hysterical!!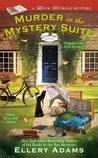 Murder in the Mystery Suite by Ellery Adams (audiobook / library)
My rating: 2 of 5 stars
Absolutely ridiculous.
The Chimes: A Goblin Story of Some Bells That Rang an Old Year Out and a New Year in by Charles Dickens (audiobook / library)
My rating: 2 of 5 stars
This story was wildly successful in its day – because it's a social commentary on the specific time, place, and people of that day. Now it feels like a rehash of A Christmas Carol, except even darker.
Grab Bag: A Collection of Stories by Charlotte MacLeod (ebook / library)
My rating: 4 of 5 stars
Usually short story collections, even those written by a single author, are uneven, with a few great stories, and a few clunkers. Not so with this collection. There wasn't a single bad story in the lot!
Challenges
GOODREADS
286 of 260
AGATHA CHRISTIE READ ALONGS
None

#shakeit2017
None
CLASSICS CHALLENGE
The Chimes: A Goblin Story of Some Bells That Rang an Old Year Out and a New Year in by Charles Dickens
I Capture the Castle by Dodie Smith
BACKLIST READER CHALLENGE 2017
None
POPSUGAR READING CHALLENGE 2017
None