Read
The Cricket on the Hearth by Charles Dickens (audiobook / library)
My rating: 2 of 5 stars
My friend Tisha compared this story to an episode of Three's Company, with its misunderstandings and well intentioned lying. I have to agree, except there are fewer laughs in The Cricket on the Hearth (I laughed exactly once, when Dickens described Caleb's house as a pimple). This is just sugary sweet sentimentality. Yuck.
12 Days at Bleakly Manor by Michelle Griep (audiobook / library)
My rating: 3 of 5 stars
The mystery is decent enough, but the romance is super sappy.
How Fear Departed the Long Gallery: A Ghost Story for Christmas by E.F. Benson (physical / library)
My rating: 4 of 5 stars
This little taste of Benson's writing has made me excited to started Mapp & Lucia! Deliciously creepy, witty, and touching!
Agatha Raisin and the Witches' Tree by M.C. Beaton (audiobook / library)
My rating: 3 of 5 stars
Oh, Agatha! All of the stale characters are here, getting into mischief, arguing, miscommunicating, etc. Alison Larkin's voice is *much* better suited to this book than it is the Jane Austen!
The Theft of the Royal Ruby: A Short Story by Agatha Christie (ebook / library / re-read)
My rating: 5 of 5 stars
A traditional Christmas read for me – I love Poirot so much, it doesn't matter that I know the solution by heart!
The Tale of Despereaux by Kate DiCamillo (audiobook / library / re-read / with kids)
My rating: 5 of 5 stars
I am extremely nervous to discuss this one at book club. I've heard lots of rumbling among the other mothers that this is too dark, depressing, violent, etc. It *is* all of those things, as are *many* of the best children's stories. I believe that this story teaches empathy, forgiveness, and courage.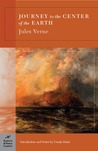 Journey to the Center of the Earth by Jules Verne (audiobook / library)
My rating: 4 of 5 stars
I can't find the edition I actually read – it was a digital audiobook from my local library. It was read by George Newbern, and he was wonderful! I definitely preferred this to 20,000 Leagues (which I read in high school and thought was unbearably dull). My son seems to have enjoyed it immensely (he actually read this B&N classics edition).
Challenges
GOODREADS
294 of 260
AGATHA CHRISTIE READ ALONGS
None
#shakeit2017
None
CLASSICS CHALLENGE
The Cricket on the Hearth by Charles Dickens
Journey to the Center of the Earth by Jules Verne
BACKLIST READER CHALLENGE 2017
None
POPSUGAR READING CHALLENGE 2017
None