A Bibliophile's Pile (as in TBR pile) is a new feature for 2017. It's going to be very similar to my Mini Review posts, but instead of theming each post, I'm just going to list what I've read in the past week. Easy peasy.
Read
In the Year of The Boar and Jackie Robinson by Bette Bao Lord (audiobook / own / re-read / with kids)
⭐️⭐️⭐️⭐️
The kids and I greatly enjoyed Shirley's story. It was fun to learn about life in the 1940s along with someone who was even more foreign to it than we are. This book also gave me an opportunity to teach my kids a bit about Jackie Robinson, a fascinating American icon and hero.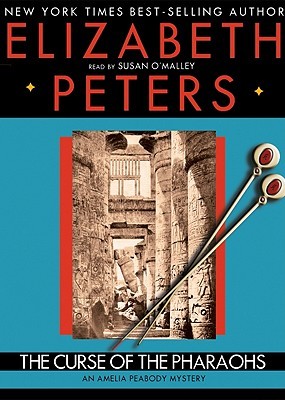 The Curse of the Pharaohs  by Elizabeth Peters (audiobook / library)
⭐️⭐️1/2
What an odd book. Marriage and motherhood haven't changed Amelia one bit, but, without Evelyn to temper her, Amelia's acerbity is downright annoying. The plot is a rehash of the first novel, the likable Evelyn and Walter are left in England, and the new characters are either horrible or forgettable. I *may* try the 3rd book at a later date, but this was quite disappointing.
Ballet Cat: The Totally Secret Secret by Bob Shea (physical book / library / with kids)
⭐⭐⭐⭐
My daughter climbed onto my lap with this book and said, "Can I read you a book, Mommy?" Like I'm going to say no?!? Bright, colorful illustrations, and a lesson in friendship, add up to a great little picture book.
Peacebound Trains by Haemi Balgassi, illustrated by Chris K Soentpiet (physical book / library / with kids)
⭐⭐⭐⭐⭐
Beautifully written and illustrated, this is a frame story of a grandmother telling her granddaughter about the Korean War. My children and I cried our way threw this short, but powerful chapter book.
The Mysterious Shrinking House by Jane Louise Curry (physical book / own / re-read / with kids)
⭐⭐⭐⭐
Such a fun book from my childhood! I loved sharing it with my kids!
The Sittaford Mystery by Agatha Christie (physical book / own / re-read)
⭐⭐⭐⭐
Tricky, tricky Agatha! I think this one will work for the Popsugar Challenge "unreliable narrator" without giving anything away. I hate *knowing* that a first person narrator is unreliable, because it feels like a spoiler. In this case, Christie herself is unreliable, as any good mystery writer must be.
Starflight by Melissa Landers (eBook / library / re-read)
⭐️⭐️⭐️⭐️1/2
With Starfall coming out next month, I wanted to re-read the first book. It was just as good, if not better, than the first time! Starflight reminds me forcibly of Firefly – there are no aliens, lots of shady characters, low tech frontier settlements, etc. It doesn't feel derivative though, just similar. Given that Firefly is one of my favorite shows of ever, anything similar is good with me!
Nine Lives to Murder by Marian Babson (audiobook / library)
⭐️⭐️1/2
I read this book to fulfill a couple of challenges. It isn't my typical choice, so it's unsurprising that I didn't love it. Win and Monty were both unlikeable, and the mystery was rather secondary. The insight into the mind of a cat was interesting.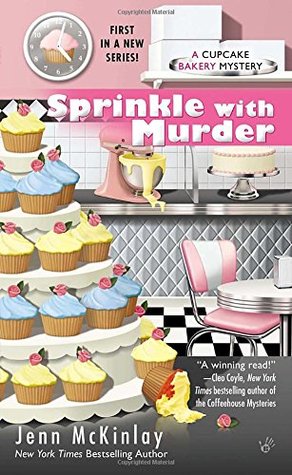 Sprinkle with Murder by Jenn McKinlay (audiobook / library)
⭐⭐⭐1/4
Cute new-to-me series. I like these characters much better than McKinlay's Hat Shoppe series. I *love* all the classic film references!
Challenges
GOODREADS
13 of 260
AGATHA CHRISTIE READ ALONGS
The Sittaford Mystery by Agatha Christie
CLASSICS CHALLENGE
The Mysterious Shrinking House by Jane Louise Curry
The Sittaford Mystery by Agatha Christie
BACKLIST READER CHALLENGE 2017
None
CRUISIN' THRU THE COZIES 2017
Culinary (anything dealing with food: restaurants, baked goods, etc.) – Sprinkle with Murder by Jenn McKinlay
Animal related (cats, dogs, birds, etc.) – Nine Lives to Murder by Marian Babson
Travel mystery (character could be on a cruise, touring another area, etc.) – The Curse of the Pharaohs  by Elizabeth Peters
POPSUGAR READING CHALLENGE 2017
A book that is a story within a story – Peacebound Trains by Haemi Balgassi, illustrated by Chris K Soentpiet
A book you've read before that never fails to make you smile – Starflight by Melissa Landers
A book about food – Sprinkle with Murder by Jenn McKinlay
A book from a nonhuman perspective – Nine Lives to Murder by Marian Babson
A book you loved as a child – The Mysterious Shrinking House by Jane Louise Curry
A book with an unreliable narrator – The Sittaford Mystery by Agatha Christie
A book about an immigrant or refugee – In the Year of The Boar and Jackie Robinson by Bette Bao Lord
A book that's been mentioned in another book – The Curse of the Pharaohs  by Elizabeth Peters (Amelia Peabody series mentioned in Murder at Longbourn by Tracy Kiely)