My friend Stefani @ Caught Read Handed has recently started reviewing picture books. Her lovely reviews inspired me to proclaim August "Children's Book Month" here on A Bibliophile's Style.
We'll wrap up with one of our newest acquisitions, The Pigeon Needs a Bath! by Mo Willems. Sweet Potato is obsessed with the Pigeon books and convinced me to buy her this latest little bit of hilarity. 😀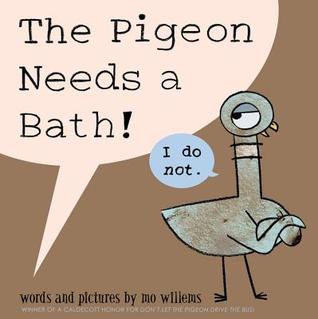 As per usual, the pigeon spends the first half of the book trying to convince us that he does NOT need a bath:
All of these flies buzzing around me are purely coincidental.
Don't miss Mo Willems' other Pigeon books or his Elephant and Piggie series!
I've enjoyed these posts so much that I've decided to review children's books once per month from here on out. 😀