WARNING! This post contains spoilers for Catching Fire by Suzanne Collins. If you have not read the book or seen the film, you might not want to read this post. Also, what's wrong with you? Go read or watch right now!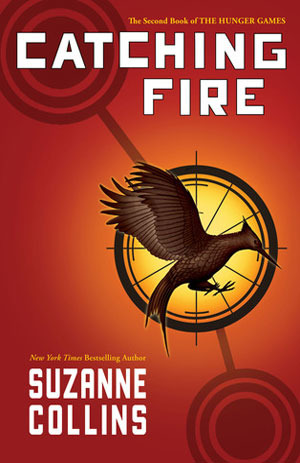 Today's T3 theme is Page to Screen (favorite adaptation). Personally, I'm a big fan of movies and I can think of quite a few adaptations that are beautifully done. I decided to choose a scene I think is better in the film than in the book, namely the reaping scene from Catching Fire.
In the book, this is basically a non-scene. The outcome is almost inevitable, so it is rushed through:
The reaping takes only a minute. Effie, shining in a wig of metallic gold, lacks her usual verve. She has to claw around the girls' reaping ball for quite a while to snag the one piece of paper that everyone already knows has my name on it. Then she catches Haymitch's name. He barely has time to shoot me an unhappy look before Peeta has volunteered to take his place.
In the film, however, the reaping scene is one of the most memorable. Between Elizabeth Banks' fantastic outfit and her even more fantastic performance, Effie steals the scene!
I decided to pay homage to this scene with my butterfly print blouse and distressed grey shorts (see how Effie's dress stands out against the dingy grey of the District 12 Justice Building?). I added black ankle boots and a little gold jewelry in honor of Effie.
Your turn!