The challenge runs June 1 – September 4, and is hosted by Cathy @ 746 Books. For my complete list, see my sign up post. Mini (Goodreads) reviews of my first 6 books can be found here. Now for the next 4:
The Little Prince by Antoine de Saint-Exupéry
⭐ ⭐ ⭐ I honestly have no idea what I just read. I know the author did actually crash his plane in a desert, and wrote the book while living away from his native country, so I guess it's an allegory of a displaced person. What an odd little book.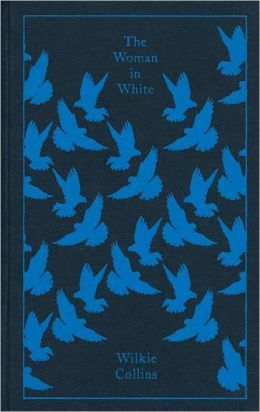 The Woman in White by Wilkie Collins
⭐ ⭐ ⭐ ⭐ ⭐ Pretty much a perfect Victorian novel. Moody, atmospheric, Gothic, and divine! Count Fosco is a delicious villian.
THANK YOU to Katie @ Bookish Illuminations for my beautiful hardback edition!
Rebecca by Daphne du Maurier
⭐ ⭐ ⭐ ⭐ ⭐ In the past I've always sympathized with the narrator. I've believed everything she said and felt as she did about Maxim and Rebecca. This time, I realized that neither she, nor I, have a single shred of proof! This book is beautiful, infuriating, and satisfying all at once. Now to rewatch the Joan Fontaine film!
Peter and the Starcatchers by Dave Barry
DNF Jim Dale's narration is lovely, but the story lacks J. M. Barrie's spark and I'm bored. The kids love it and will finish the audiobook on their own. They've also requested the rest of the series.
More About Paddington by Michael Bond
⭐ ⭐ ⭐ ⭐ Paddington is adorable! I read this with my 6 year old daughter and we both rolled with laughter at Paddington's antics. I also remember when my son read this a few years ago and got upset that we don't have Guy Fawkes Day in the US. He really loves fireworks! 😀
NOTE: I added this one in because I DNF'd Peter and the Starcatchers and I wanted to still have 20 books!
Just a quick reminder that T3 is next Thursday, 7/16/15. We continue our Summer theme with Beach Read (something you'd read on the beach and/or set at the beach)!